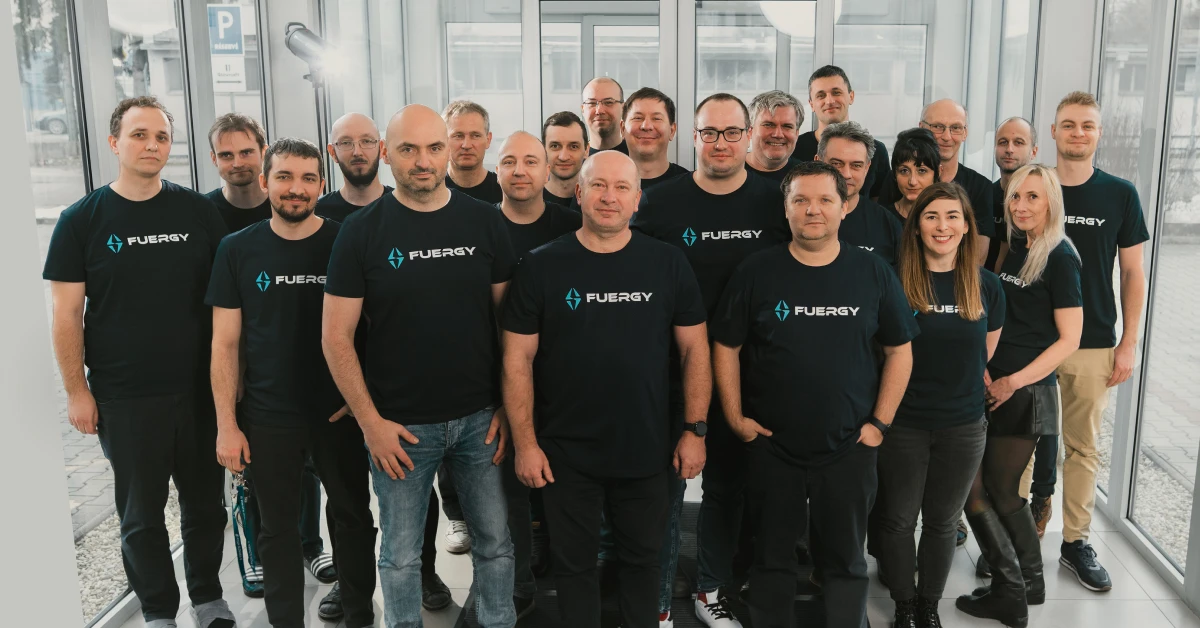 FUERGY is a pioneer in automated and highly predictive energy solutions for the management of energy production and consumption that save costs and maximize the use of energy resources, especially renewable ones.
We are rightly proud that...
in 2020, we installed the very first high-capacity battery storage in Slovakia;

with the energy supplier Slovenské elektrárne - energetické služby we have already deployed more than 7 MWh of smart battery storage systems brAIn, which makes us an absolute leader in the installed capacity;

we are the only company in Slovakia offering a fully automated flexibility service, with which we have been regulating technologies for customers such as Železiarne Podbrezová and the National Football Stadium for almost a year;

we are also the only company that provides all-in-one energy solutions from smart battery storage, through software for the management of electricity production and consumption, to electricity trading;

for all of our solutions, we achieve unrivalled revenues and savings on energy costs in the form of a success fee, which we are happy to split with our customers.
With our technology and innovative approach to energy management, we have grown in four years to become a leader in smart battery systems and flexibility in Slovakia, a position, which thanks to the new investment, would be much easier to maintain. We are therefore truly grateful that Pro Partners Holding group sees the potential in what we do and trusts us, despite not being previously engaged in the energy sector to any greater extent.
Who is Pro Partners Holding and what do the investors see in us?
Pro Partners Holding is a major investment group operating in the CEE region, mainly in the private equity, real-estate, and finance sectors. It has been on the market for more than 25 years and manages assets worth more than €1.5 billion. Pro Partners Holding's most significant investments include IAD Investments, správ. spol., a.s., STABILITA, d.d.s., a.s., and AQUACITY Poprad.
"The decisive factors in favour of investing in FUERGY were primarily the innovativeness of its products and energy management, the complexity of the provided energy optimization solutions, as well as the high level of expertise of the company's founders and management," says Tomáš Zedníček, senior partner at Pro Partners Holding. The investment will be implemented within the next three years.
How will we use the proceeds?
1. We will provide smart battery systems brAIn to companies that can't afford them
Part of the proceeds will be used to finance the production of our high-capacity battery storage systems brAIn by FUERGY, which today achieve an unbeatable 2+ year payback period. Considering a 15-year battery life, brAIn becomes a green investment product that simply pays for itself. Under the Energy as a Service model, we can provide brAIn systems to the customers who want to use the benefits of battery storage or its combination with photovoltaics but do not have enough free funds. You can read more about how brAIn works and generates revenue as well as what its role is in reducing carbon footprint in our guide to the high-capacity smart battery storage brAIn by FUERGY.
2. We will install smart battery systems brAIn within the real-estate portfolio of Pro Partners Holding
As we mentioned before, our investor actively operates in the real-estate sector. Battery systems brAIn will therefore also be installed in buildings and complexes under its management, such as AQUACITY Poprad, OC Laugaricio, TWIN CITY A and STEINERKA Business Center.
3. We will stockpile the batteries
By expanding our battery stock, we can install our smart battery systems brAIn much faster and more cost-effectively. We'll also cut the implementation process from today's four to five months in half, and in some cases, we'll be able to deliver high-capacity storage systems to customers straight away after simply signing a contract.
4. We will expand our development and sales team
We want to grow and to do that, we need help – new team members who will not only do their job, but will also share our passion for technology, sustainability, and innovation. We are shaping the future of energy which is in line with our ideas and visions for its greener and more efficient development. Those who want to be a part of this change should keep a close eye on our open job opportunities.
5. We will invest in new product development
Our philosophy is to simplify and automate our work. Even though it may sometimes seem like the harder path. Just as at the very beginning, when we didn't settle for what the market offered and developed our own software platform that tailored to the specifics of energy management, without unnecessary functionalities and allowed us to create applications much faster and easier, we have also built our own FUERGY Control units and other hardware devices that are part of our brAIn systems. There are more such products in our drawer that are progressing further along each day.
6. We will expand to other markets
Our next stops are the Czech Republic and Poland. Successively, we want to work our way up to the market leader in the V4 countries providing complex energy solutions for all types of customers and further expand our reach to other European countries. The architecture of our solution also allows us to expand globally.
What makes us unique?
We are not a startup with an average age of 25. But we understand what we do all the more. FUERGY was founded by energy pros with decades of experience – from developing control and optimization systems, energy software and hardware, to electricity trading. This is the formula that has enabled us to invent and build the technology with which we are dominating the marketplace. Energy is a complicated industry. Without sufficient and versatile knowledge, we would not have had the chance to reach this point.
And what's next...
In the near future, we plan to launch smart battery systems brAIn for homes, which requires a slightly different approach and the creation of a strong supply chain. We will also continue to improve, streamline, and expand our solutions. Based on our feedback, we have at least a two-year head start on the competition. So why not get a little further ahead?
We are living in the future of energy. Are you?